mindsweeper333
New Member
Joined: 09 Aug 2021
Posts: 4
Location: Texas


Sheridan Model A

I was recently rummaging thru some old boxes I had stored and discovered a box that had "Sheridan A negatives" written on it, had forgotten all about it; really brought back memories! Back in 1990, I think, memory not that good anymore had a customer who came in the shop, I was In Kerrville Texas at the time, I was finishing up a Benjamin M-317 valve rebuild and the customer said I didn't know you worked on BB guns!! I just laughed and said, work on most anything if I am interested!

He said he had an old BB gun that his dad kept out in the barn for "rat killing" and he would bring it by next time he came my way, maybe you could use it for parts, said his dad had it since the early 50s best he could remember said it was a pump up, that was all he knew about it. I said damn how long has it been sitting in the barn, he said that's where it was always kept, and has been since his father passed.

About a week later the customer came in and showed me the rifle, it looked like it had a coat of grey/brown primer, it WAS dirty!!! I immediately recognized it was a Sheridan Model A Super–Grade!! I was flabbergasted, I said what do you want for it , he said it's yours I don't care much for BB guns!! I then explained to him what it was and he said just use it for parts I don't want it! That's how I came into possession of my Model A Super- Grade!! It was a real mess couple of chunks out of forearm and stock years of dirt accumulation exposure to the elements etc. but it was complete NO missing parts, peep sight intact and it was serial # 272! One of the first 300 made!! I would guess 1947-1948 production?

This started a 4 month long restoring process, as I could get too it, between regular gun work in the shop. I restored the stock and forearm first, filling in the missing chunks of wood etc; and refinished in a Red Mahogany stain with a final coat of polyurethane. The next part was the valve rebuilding and cleaning up the barrel and tube assembly! I had to fabricate a series of 5 valve disassembly tools. The Super used a unique ball valve system with synthetic seats, for both inlet/exhaust. The barrel and tube were brass, at least the tube was. I had read that the barrel was Bronze alloy? So just stripped paint; cleaned up and polished. I simply bead blasted the receiver, and blued small parts. Had to make a 0-ringed piston pump, the original piston seal was a crumbled mess, (none available that I could find) used the original synthetic seats and just re- surfaced them in the lathe. I was out of stock on acetal/delrin bar stock at the time or would have made some new seats. 6 pumps gave 525 fps, 8 =20 more FPS, below advertised velocities, but I was glad to get that!!!

I rediscovered that I had taken photos of the tools I made and photos of the valve assembled and disassembled (black& white of course)! Took the negatives to a Photo Lab and had them developed and put on a computer thumb drive so I could upload to my computer, (photos ="Exposed" in the subject line) they will accompany this thread "Hopefully" It may be this info will be old hat to some, but still feel it might be of interest to some who have not seen the innards of a Sheridan Model A Super-Grade. Maybe not?

• Note: one of the photos will show a comparison of the Super valve body as removed and a valve body and exhaust stem of the later type Benjamin/Sheridan units, interesting!!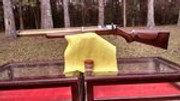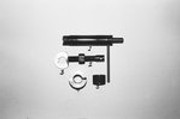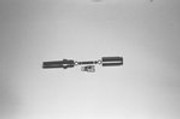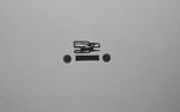 Hello everyone I have a CD advertised on this site (Articles of 57 Vintage Airguns) Someone suggested that I give an example of one of the articles so I decided to go with the Sheridan Model A. This airgun is over 70 years old. Hopefully you will find the Article interesting and enjoyable.